Canope, the company formerly known as Nubrella, has updated its $90 hands-free wearable umbrella and shade system to provide more protection from more adverse weather conditions including both rain and sun.
This updated device is what the company calls the world's first patented, hands-free, wind-resistant weather protection umbrella that is worn much like a backpack and is meant to be used for all-weather protection. This includes rain, wind, and also protection against the sun. The company says it is "impossible to invert with its smart aerodynamic design where wind flows over, through, and around" with a three-pound design that claims to withstand winds of up to 40 miles per hour.
The product is listed as "one-size-fits-all" with a set of adjustable straps to accommodate most users. The Canope itself is 26 inches wide, which allows for an easy fit through most standard doorways without the need to retract the whole device, which can still be done with its quick-release buttons located on its sides.
If this design looks familiar, that is because the company has rebranded itself and redesigned the original device that was initially released in 2017. At the time, the "Nubrella" had clear plastic on the front and sides and was designed with the sole purpose of protecting users from the rain. The company appears to still be in transition from its former branding, as some official product photos still show the Nubrella name.
According to Canope, inquiries from corporations such as Chick-fil-A and Disney inspired the founder to improve the device. Rebranding to Canope, the new design removes the clear plastic and replaces it with a high UVA rated fabric so it could be properly used for sun protection as well as still work as a rain shield.
"It now offers both sun and rain protection. It is a real breakthrough for sun protection as people/workers/photographers can't hold an umbrella, and a hat is not sufficient," Canope tells PetaPixel.
The Canope is rated for 40 SPF protection and effectively blocks 90% of the sun's rays while the inner silver lining promises to keep the wearer up to 20 degrees cooler, thus additionally protecting against heat-related illnesses and skin cancer.
Since the product had been updated for protection against both sun and rain, the company felt a rebrand was also appropriate since it claims over 60 percent of its customers use the product for sun protection. The change in name may also be related to an issue founder Alan Kaufman had after his appearance on Shark Tank in 2016.
"For the first six months it was great exposure," Kaufman said to The Boston Globe. "But I never knew they'd be running re-runs for six years, after Nubrella has gone through a massive transformation."
Kaufman landed a $200,000 deal with two Sharks, but never closed on the arrangement due to disagreements after the episode finished filming. Renaming the product has the added advantage of not associating with a period of time in which the business struggled to break out of the mold that Shark Tank had put it in.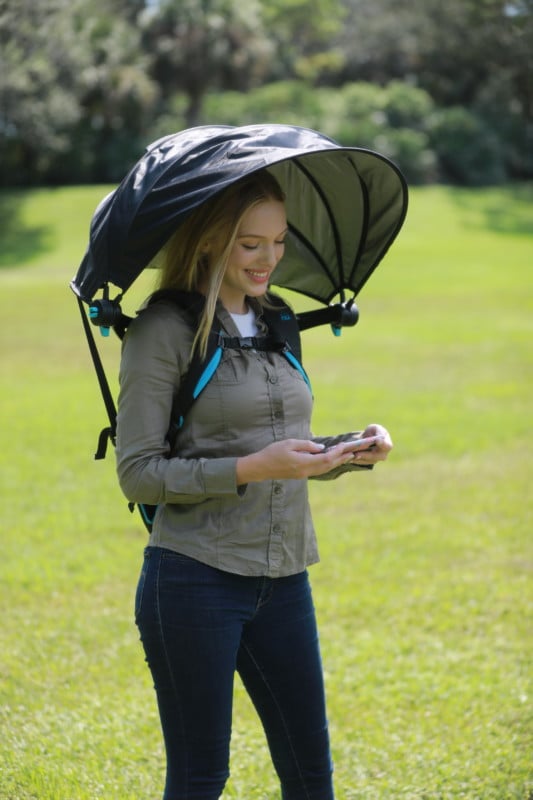 "We live in a technology-driven society where you need your hands-free so much of the time whether doing your favorite recreational activities like; walking the dog, hiking, taking photos and videos, or in the workplace using tablets, etc. It truly has never been a better moment to enjoy a hands-free weather protector," Canope states.
The Canope can be purchased for $90 through the official company website here.