On Tuesday, several States along the south eastern corner of the US felt the effects of the a fuel shortage that followed after a cyber-attack prompted the Colonial Pipeline to shut down. The fuel shortages were felt across 11 states, but Washington D.C. and North Carolina had the most fueling stations depleted as of Wednesday afternoon.
The fuel outage information comes from the popular fueling app GasBuddy, which has seen an influx of downloads due to the fuel shortages. The app now ranks #1 on the App Store and Google Play Store in each app catalog's respective "Travel" categories.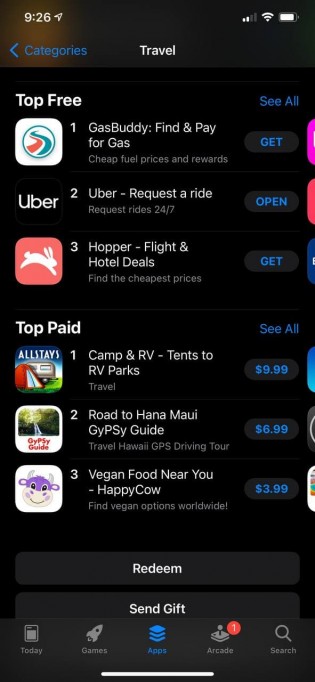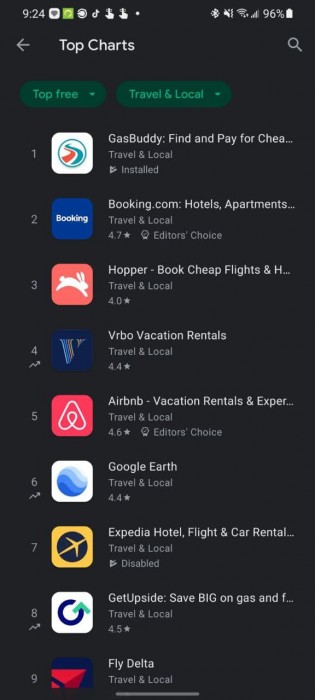 App Store (left) and Play Store (right) rankings for Travel apps May 12
The app crowd-sources information from users to update fuel prices on a map. The app lets users identify when a station is out of fuel, the current price of each grade of gasoline or diesel, and it lets users collect rewards every time they report prices from a station.
According to GasBuddy, the app's downloads were higher than third-party research estimates. Across Android and iOS, the app reached 20 times more downloads on Tuesday than the average day in 2021. Tech Crunch reports that the app reached 313,001 downloads on Tuesday, compared with he average daily downloads of 15,339 in the last thirty days.
The Colonial Pipeline runs 5,500 miles (8,850 km) from the Gulf of Mexico but was shut down on Friday after a ransomware attack infiltrated the Pipeline's infrastructure. This Pipeline brings about 45% of all the fuel used in the Eastern Seaboard and reports of the shutdown have caused Americans to pre-emptively fuel up their cars, thus spiking demand and causing the shortage. The national average of fuel has broken more than $3.00 per gallon for the first time since October 2014.