The Moin Camera, a new travel-friendly handheld device that has been announced by Moza looks to supplant DJI thanks to 4K video capture, articulating screen, 3-axis stabilization, and other features packed in a small and lightweight body for creators on the go.
As noted by DPReview, Moza — a brand known for its smartphone and professional camera gimbals — is venturing into the camera market with the release of the Moin Camera. The tiny device bears a strong resemblance to the DJI Pocket 2 — previously known as Osmo Pocket in its first generation — which was released in late 2020.
The Moin Camera has a 1/2.3-inch sensor and, using a full-frame equivalent 14mm f/2.2 lens with a 120-degree field of view, can capture 12-megapixel photos, 4K video footage at up to 60 frames per second, and also offers up to 8x slow-motion in its other video capture resolutions. From a stills perspective, the camera's shutter speed ranges from 60 seconds to 1/8000 of a second, while ISO ranges from 100 to 3200. Settings can be changed using the built-in 2.45-inch articulating touch screen.
Shooting options include single shot, panorama, static lapse, motion lapse, and hyperlapse. The camera also offers face tracking and fast continuous shooting which claims to deliver 9 images with one click.
Although the Moin Camera has a slightly wider angle of view and a larger touch screen compared to the Pocket 2, it also has a smaller sensor which may be a deal-breaker for those who want a camera with more robust capture potential.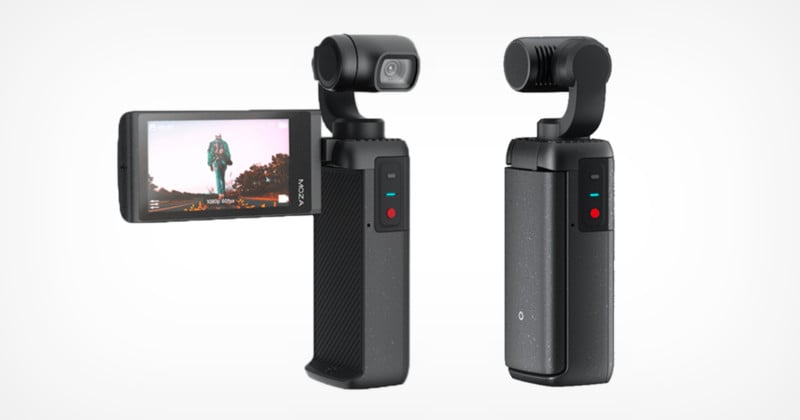 That said, the long list of useful features that the Moin does offer comes packaged in a compact camera body that weighs only 176g (6.2 ounces) and is a scant 129mm × 37.8mm × 32mm (5 x 1.5 x 1.26 inches) in size, making it a travel-friendly option for photographers and videographers, especially considering the built-in stabilization that removes the need to pack an additional gimbal. The company claims the battery life of this camera lasts 145 minutes and takes 90 minutes to be fully charged using fast-charge.
Images can be processed or transferred using the Moza Artist app which accompanies the camera similar to smartphone gimbal apps on the market, such as Zhiyun's ZY Cami app. Users can choose to automatically import all footage stored on the camera, using Bluetooth and Wi-Fi to connect to the smart device. The app also offers quick edit options with various filters, effects, adding music, and more, with the ability to export the footage.
Moza is marketing this camera for audiences that are looking to record or vlog casual occasions, such as travel trips, lifestyle footage, outdoor events, and parties, making it appealing to those who want to upgrade from exclusively using their smartphones to record content. This camera is currently available for $299 in Moza's online store.