Gaming phones are not for everyone, but last week's poll shows that if you want one, the Redmi K40 Gaming is a great pick. It stands apart from the rest of the K40 family (itself fairly popular) with a MediaTek Dimensity 1200 chipset replacing the Snapdragons.
It has been on sale in China for a couple of weeks now, it goes for CNY 2,000 ($310 or so), the same price as the vanilla K40. The two share many similarities, including the 120Hz OLED with HDR10+ support.
To improve response times, the gaming phone cranks up the touch sampling rate from 360Hz to 480Hz and includes shoulder buttons – physical ones, rather than capacitive or ultrasonic like some other gaming handsets.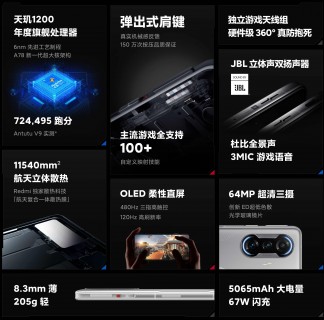 Redmi K40 Gaming in a nutshell
The K40 Gaming also packs beefed up cooling and a larger battery with faster charging (5,065 mAh at 67W, up from 4,520 mAh and 33W). It's a phone optimized to maintain performance over long stretches of time and to have as short a downtime as possible once it does need to take a rest.
Some were worried about the software – Xiaomi was in hot water with the US government – but that was cleared up earlier this week so Redmis (and other Xiaomi-made devices) shouldn't have problems running Google software.
Other issues that people pointed are the lack of a headphone jack (wired headphones have lower latency) and a microSD card slot (spare room for all non-gaming content). Unfortunately, there's nothing to be done about those things (a pricier Black Shark can solve the first half of those issues).
Of course, there are many that just don't care about gaming phones. And that's fine, there are three other K40 phones to choose from (not to mention the rest of Xiaomi's stable). The good news for the company is that very few people would prefer a competing gaming phone.